Talent Village Workshop in-person course trainers announcement
'Taiwan Pitch Nonfiction Short Film Fund 2022' has announced the list of trainers for the in-person Talent Village! The courses include Script Writing, Sound Design & Foley in Documentaries, Editing, Application of Recorded sound and Source Music, Contracts and How to Negotiate Rights, Financing and Funds for International Filmmaking. The finalists have arrived in Taiwan one by one, they will be going to attend the in-person courses, and stepping further into their filmmaking journey.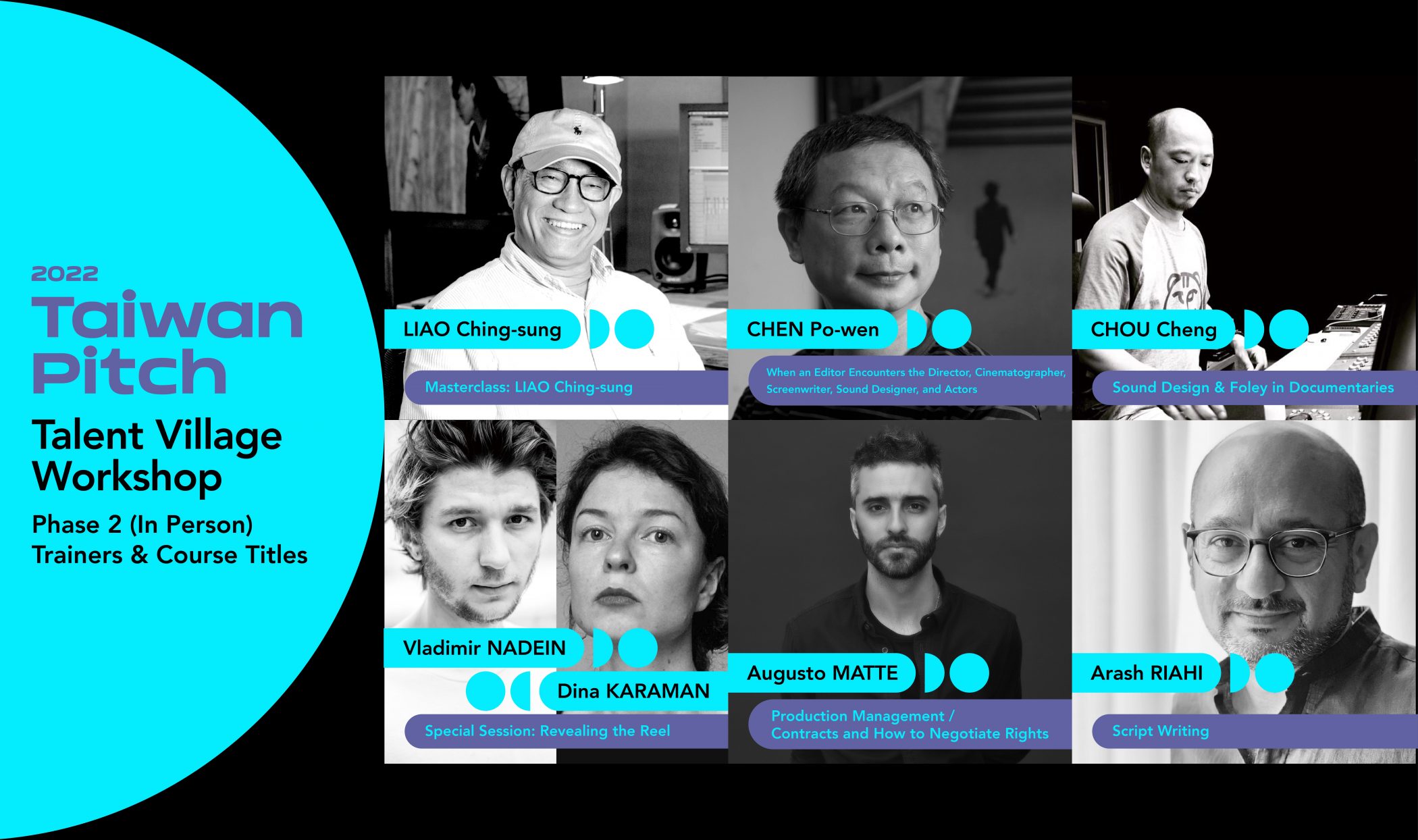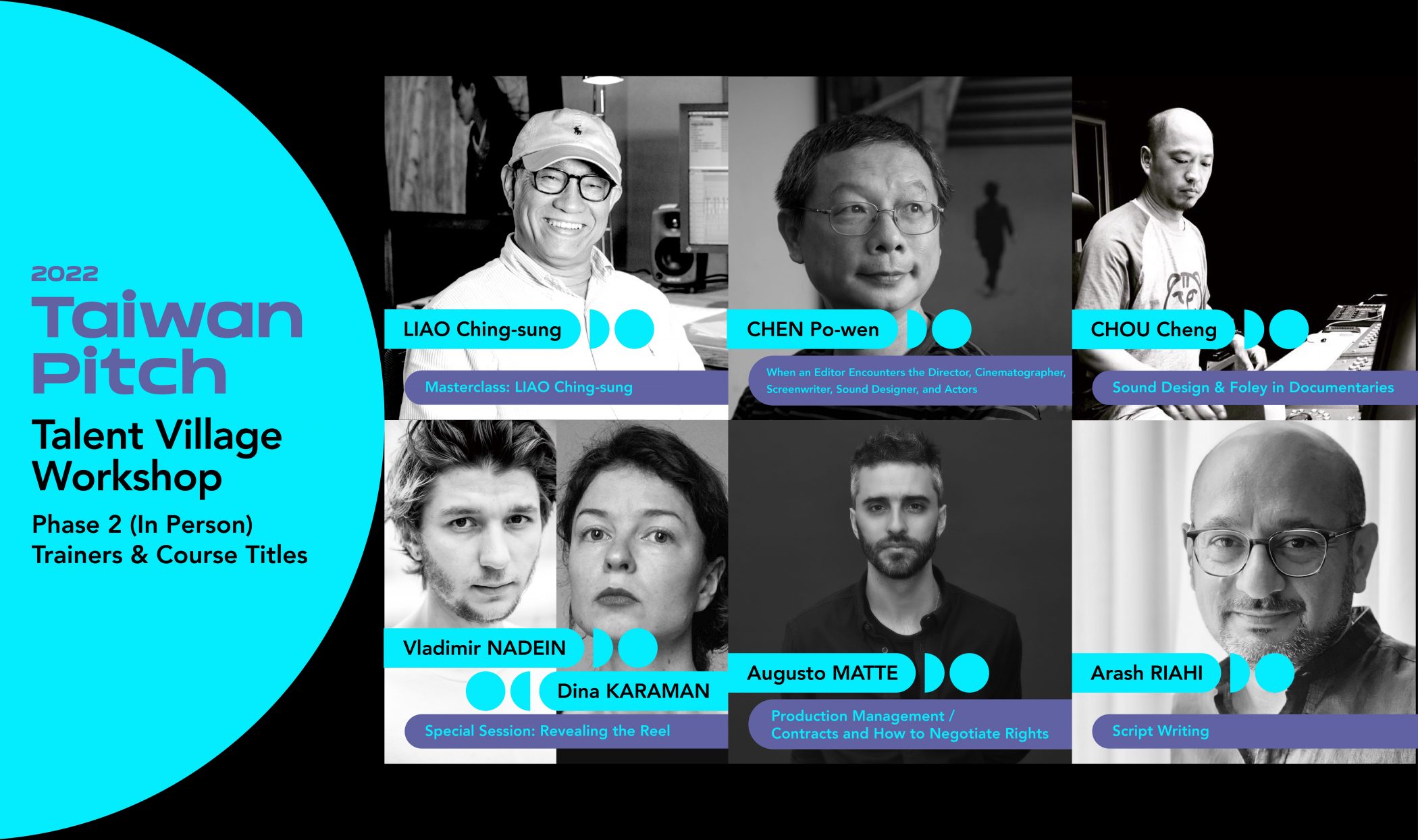 Taiwan Pitch invites industry professionals worldwide as the trainers for the in-person courses, including:
●LIAO Ching-sung
Film producer, renowned Taiwanese film editor, winner of the National Literature and Art Award and the Golden Horse Award for Special Contribution; editor for many directors of Taiwanese New Wave Cinema and is known as the "midwife" of the movement.
●CHEN Po-Wen
Professional film editor since 1978; over 200 works that encompass a broad scope of arts, business, documentaries, animation, and more; has received various prestigious awards such as the Golden Horse Award, Golden Bell Award, and National Award for Arts.
●CHOU Cheng
Founder of Seismic Sound Lab Ltd, sound recorder and mixer for many TV programs, movies, and documentaries; has received many nominations and awards at domestic and international film festivals.
●Dina KAMARAN
Filmmaker, video artist, exhibition scenographer, and archive researcher; participated in the 17th Venice Architecture Biennale, Moscow International Experimental Film Festival, and more.
●Vladimir NADEIN
Co-founder of Moscow International Experimental Film Festival, curator, film producer, and filmmaker.
●Augusto MATTE
Director, producer; his works have been selected for the Cannes Film Festival, Venice Film Festival, and Sundance Film Festival; currently consulting for many international productions.
●Arash RIAHI
Founder of Golden Girls Filmproduktion, Austrian director, producer, script-writer, and dramatic consultant.
●Paula Alverez VACCARO
Founder of PINBALL LONDON; nearly 30 years of experience in film, television, radio, and print media across three continents.
In addition to inviting Sharmeen Obaid Chinoy, who has won two Academy Awards and four Emmy Awards, to lead an online masterclass, we are honored to announce today that renowned Taiwanese film editor, LIAO Ching-sung, known as the "nanny" of Taiwanese New Wave Cinema, will be leading an in-person masterclass at this year's Taiwan Pitch Talent Village.
More information about Talent Village trainers and Taiwan Pitch will be released soon, please follow us on social media to keep up-to-date with our latest news:
Facebook https://www.facebook.com/Taiwanpitch;
Instagram https://instagram.com/taiwanpitch;
Twitter https://twitter.com/taiwan_pitch.